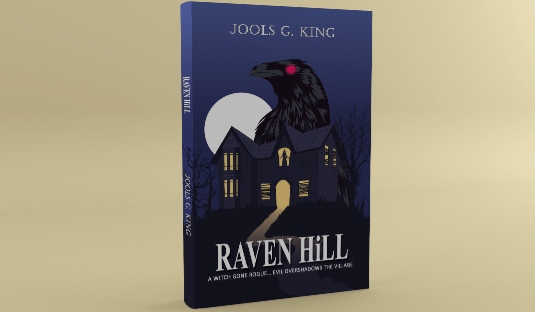 My new horror novella, RAVEN HILL, is now available from Amazon. It's a kind of eco-horror story with a strong occult witchcraft theme. Hopefully, it will be the first of a series.
A couple of early reviews:
This was a horror novella. When I first began reading it, I felt the characters had a sort of relatability about them that I liked – it was as though they were just ordinary people doing ordinary everyday things. Then some extraordinary events occurred.
There was some quite graphic violent imagery in places, and that could possibly deter some readers, but I think that depends how squeamish you are. It was a satisfyingly spooky short story.
***
Wonderful book I enjoyed magic world inside it. It seem to recreate world of witches. It manage to bring out child hidden inside me. I feel so happy & pleased by it. I really like it & finished it quickly too.
***
Here's the blurb:
A new horror overlooks the village. A horror more than three hundred years old. A witch with a chokehold on the village that rests in the shadow of Raven Hill.
A witch gone rogue, an evil crone with a vengeance that must be satisfied at all costs.
Fish are dying. Crops are withering. The birds no longer sing. Everywhere, flocks of malevolent ravens darken the skies. The air is poisoned.
Nate fears the life is slowly being choked from the village. But he has no idea why.
For the villagers, time is fast running out.
Who is the mysterious but enchanting Abbie who has set up camp close by? Is her travelling folk band here merely to entertain the locals?
Or is their purpose far more ominous?
You can order Raven Hill from Amazon by clicking here (UK site).
Sign up to my monthly newsletter to receive a free download of a standalone short story starring two of the characters of RAVEN HILL.
My second full-length novel, BODYFREEZE, set in the near future, is almost ready to go too. This one weighs in at just 62,000 words. More about BODYFREEZE later, but I'm probably looking at an early Spring release.